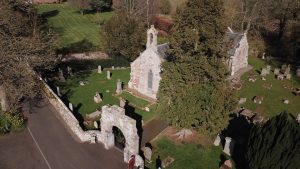 Summary
A great tour between three historic market towns in the Cateran Ecomuseum that provides a superb day out on two wheels or a great connection between various other routes in the Ecomuseum.
Scottish Outdoor Access Code: Know the code before you go
Please use the arrows on left/right side to go to previous/next route.
You can download our booklet, From Deep Time To Our Time, Cycling Across The Cateran Ecomuseum here.
Route stats
Suitable for: Road bikes
Total Distance: 35.9 km
Total Ascent: 290 m
Terrain: A mixture of quiet roads
Access: Fully accessible (no gates, steps or barriers)
Route Category: Straightforward
Riding Time: 2 - 3 hrs
Start/Finish: Alyth Market Square
OS Grid Ref: NO 24612 48519
Nearest Parking: At the start
Key Facilities on Route: Alyth (accommodation, bike shop, shops, restaurants, cafes), Blairgowrie & Rattray (accommodation, bike shop, shops, restaurants, cafes, large supermarket) Coupar Angus (accommodation, bike shop, shops, restaurants, cafes), Ardler (pub)
OS Landranger Map: 53 (or custom Cateran Ecomuseum map)
For information on local accommodation & services click here
Route Description
Leaving Alyth on Bamff Road the route passes the Den 'O' Alyth before climbing steadily on a small road to the hamlet of St. Fink, where c. AD 720 there was a chapel dedicated to St. Fynoana, one of the nine virgin daughters of Saint Donevald. Shortly afterwards the road (signposted to Blairgowrie) descends into Rattray and crosses the River Ericht into Blairgowrie. There are places to stop close to the Wellmeadow, or only a short detour away. A short walk along the river to Cargill's Leap, named after the famous Covenantor, is worth the detour. From here the route follows Welton Road out of town, passing the site of the former railway station which is now a Tesco supermarket (nearby streets retain railway-themed names), and continues on quiet roads to Rosemount.
About a kilometre afterwards, Monk Myre, a kettle hole left over from the last ice age, is another great detour with its diversity of wetland birds. The route then continues to Easter Bendochy and the impressive Bendochy Kirk, situated close to the River Isla, which has been a site of worship for 900 years. Take care on the A923 into Coupar Angus, which follows the route on one of Caulfeild's Military Roads, with Coupar Angus inviting another stop. On the way out of town the route passes the few remains of the 12th century Cistercian Abbey of Coupar Angus, before following a small road to Kettins.
From Kettins, another ancient spiritual centre, the route continues on to Ardler, where a pub invites for a final stop, before more quiet roads are followed back to Alyth.
You can also explore Alyth Auld Town and find out how this traditional market town built its success over centuries of political, economic and social change.
And by taking A Spin Along the Ericht you will discover how the fast flowing waters of the River Ericht powered Blairgowrie into becoming one of the most thriving centres in Tayside's textile industry.
Find out more about some of the key Points of Interest below.
Along the way you will find these points of interest: