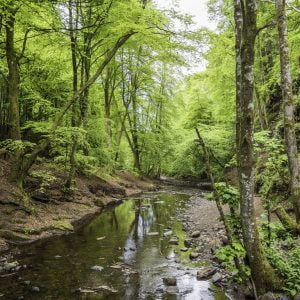 Summary
The Den ('narrow valley' or 'gorge') o' Alyth is a wooded glen through which the Alyth Burn runs. Part of the geography of the Highland Boundary Fault, it is close to the outskirts of Alyth, and much of the stone quarried to build parts of Alyth in earlier times was quarried from here.
Designated a Site of Special Scientific Interest (SSSI) by Scottish Natural Heritage, the Den's ancient woodland is of semi-natural origin, comprising native species, such as ash, oak, birch and hazel, and non-native species, such as beech and sycamore.
Scottish Outdoor Access Code: know the code before you go
You can download our booklet, From Deep Time To Our Time, Walking Across The Cateran Ecomuseum here.
Please use the arrows on left/right side to go to previous/next route
More information
A variety of wildlife is regularly spotted among the oak, ash, beech and birch trees, including red squirrels, deer, tree creepers and great tits, with dippers, herons and grey wagtails often seen by the water. You can walk to the start of the Den 'o' Alyth from Alyth town centre in less than 10 minutes and then enjoy as much of the path as you wish for around 4.5kms. The section beyond the Tullymurdoch & St Fink bridge can sometimes be affected by landslips, so be aware of this. The whole route to the end and back will take 1.5 - 2 hours.
You can also learn about the geology of the gorge by looking at our geology itinerary here.
Route Stats
Total Distance: 2.92 km
Total Ascent: 30 m
Terrain: Mostly flat on paths
Route Category: Easy
Walking Time: 1 - 2 hrs
Start/Finish: Alyth Town Square
OS Grid Ref: NO 23872 48726
Nearest Parking: Car park & picnic site along the road at NO 23608 48720 Further parking at various sites in town
Key Facilities on Route: None, but in Alyth (shops, accommodation, EV chargers, restaurants, cafe)
OS Landranger Map: 53 (or custom Cateran Ecomuseum map)
For information on local accommodation & services click here
Route Description
Start at the white Den 'o' Alyth gate. Follow the footpath on the northern side of the Alyth Burn. Where it forks, take the path to your right and continue along the river. Halfway through you'll cross the Alyth Burn on a small road, and follow the path on the opposite side of the burn back. Cross a small bridge and return the same way you came. 
Find out more about some of the key Points of Interest below.
Along the way you will find these points of interest:
Den 'o' Alyth

A woodland walk along part of the Highland Boundary Fault. The Den ('narrow valley' or 'gorge') o' Alyth is a wooded glen through which the Alyth Burn runs. Part of the geography of the Highland Boundary Fault, it lies on the outskirts of...

Read more

The Highland Boundary Fault

One of Scotland's most ancient geological features. The Highland Boundary Fault is a geological fault line that runs across Scotland from Arran in the west to Stonehaven in the east, traversing the southern edge of the Cateran Ecomuseum. Along...

Read more