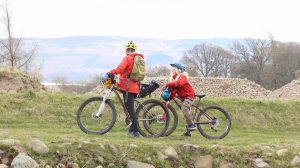 Summary
[PLEASE LOOK OUT FOR BANK EROSION] A mostly flat and beginner and family-friendly gravel route that is also suitable for touring bikes. Discover the wildlife and landscapes on both banks of the River Ericht, connected by Kitty Swanson's Bridge on a ride through the heart of Scotland's berry growing country. 
Scottish Outdoor Access Code: Know the code before you go
Please use the arrows on left/right side to go to previous/next route.
You can download our booklet, From Deep Time To Our Time, Cycling Across The Cateran Ecomuseum here.
Route stats
Suitable for: Gravel and touring bikes (we recommend at least 30mm wide tires)
Total Distance: 14.7 km
Total Ascent: 70 m
Terrain: A mixture of quiet roads, cycle paths and tracks
Access: Some gates that can easily be opened, a short section of steps at Kitty Swanson's Bridge
Route Category: Easy
Riding Time: 1 - 1.5 hrs
Start/Finish: Wellmeadow
OS Grid Ref: NO 18042 45224
Nearest Parking: At the start, further parking at various sites in town
Key Facilities on Route: Blairgowrie (shops, accommodation, EV chargers, restaurants, cafe)
OS Landranger Map: 53 (or custom Cateran Ecomuseum map)
For information on local accommodation & services click here
Route description
Kitty Swanson operated a ferry crossing over the River Ericht for many years in the late 1800s, and now an impressive bridge remembers her services. This mostly flat loop through the Vale of Strathmore starts at Wellmeadow in the heart of Blairgowrie. It follows roads and a short section of path out of the city, travelling through large farms and greenhouses. After 5km a short detour to the right leads to Monk Myre, a beautiful loch, home to a diversity of wetland bird species and a Site of Special Scientific Interest. Continuing on more quiet roads to a small woodland the route leaves the roads on a grassy path which leads to Kitty Swanson's Bridge and the River Ericht, a well-suited lunch spot.
From here the route follows the banks of the river for a short while, and after a section on a gravel road the road is rejoined near Blacklaw. After the farm the route follows the newly built Strathmore Cycle Path through various fields. This section is completely traffic free. Leaving the cycle path on the remains of a barrack the route rejoins quiet roads through farms back to Blairgowrie, passing Davie Park towards the end, which offers benches for a picnic and playground facilities.
Find out more about some of the key Points of Interest below.
Along the way you will find these points of interest: