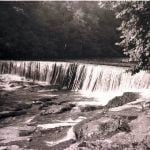 One of the most thriving and innovative centres in the history of Tayside's textile industry.
During the Industrial Revolution, Blairgowrie & Rattray was a bustling centre of the textile industry, first spinning flax, then jute and latterly rayon.
This itinerary, which will take you around 1.5 - 2 hours to walk, tells the story of eleven of the old Mills, how they worked, the innovations that were made in them and the challenges that the mill owners and their workers faced.
You can read an introduction to A Spin Along the Ericht here and find out more about each point of interest below.
You can read the leaflet that accompanies this itinerary here, and enjoy a short film about the life and work of local master craftsman and weaver Ashleigh Slater here. You can enjoy a range of other general walks around Blairgowrie too, see here.
With thanks to Peter Dawson and Meg Luckins for their help in creating the content for this itinerary.
Along the way you will find these points of interest: