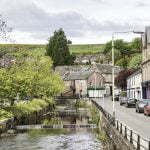 A traditional market town with a history stretching back 1,000 years.
Alyth, most probably from the Gaelic 'aileach' meaning 'rocky place', is a small town situated on the southern edge of the Cateran Ecomuseum.
This itinerary, which will take you around 1.5 hours to walk, has been designed to reveal the most interesting and intriguing aspects of its long history and some of the background to notable characters who called it their home.
Along the way you will find these points of interest: