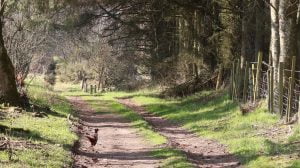 Summary
This enjoyable cycle ride takes you across the Ancient Forest of Alyth and past some of the Ecomuseum's most evocative pre-historic sites. A visit to the birthplace of the famous covenanter Donald Cargill offers spectacular views across Strathmore, one of Scotland's most beautiful and fertile valleys.
Scottish Outdoor Access Code: Know the code before you go
Please use the arrows on left/right side to go to previous/next route.
You can download our booklet, From Deep Time To Our Time, Cycling Across The Cateran Ecomuseum here.
Route Stats
Suitable for: Gravel bikes
Total Distance: 26.7 km
Total Ascent: 440 m
Terrain: A mixture of singletrack, paths and quiet roads
Access: Some gates
Route Category: Challenging
Riding Time: 2.5 - 3.5 hrs
Start/Finish: Alyth Market Square
OS Grid Ref: NO 24612 48519
Nearest Parking: At the start
Key Facilities on Route: Alyth (accommodation, shops, restaurants, cafes)
OS Landranger Map: 53 (or custom Cateran Ecomuseum map)
For information on local accommodation & services click here
Route Description
The route starts in Alyth's historic Market Square. It follows Bamff Road westbound out of town, passing through the Den 'O' Alyth first and then continuing towards Bamff, where one of Scotland's most exciting rewilding programmes is underway on the Bamff Estate, pioneers of the reintroduction of Beavers to Scotland. Bearing left at the junction with Bamff, the route continues along the road, before it takes a left turn, signposted to Bridge of Cally. Park Neuk Stone Circle is a great place to stop with its 360 degree views across the Cateran Ecomuseum. Across the moor at a house on a sharp corner, the route follows the road south, passing Drimmie Woods and the great Kynballoch Stone.
Continuing to follow the road, and where it takes a turn to the right, follow the gravel path that heads straight, passing a number of houses and descending along the edge of woodland towards Rattray. Here the route rejoins the road towards Alyth, part of the Strathmore Cycle Network. It then follows a gravel track on the left, which leads up to Donald Cargill's Monument. From here another farm track heads back to the road, and at St. Fink, the route takes another track heading left into Drimmie Woods. Passing a small Lochan the route then takes a right turn, and then continues on the road back to Alyth.
Find out more about some of the key Points of Interest below.
If you enjoyed this route, why not try the following?
Along the way you will find these points of interest: