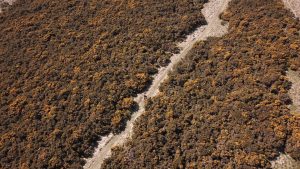 Summary
A circular mountain bike ride with superb views, the chance to spot beavers in the wilderness of Bamff Estate and a great finish on a twisty natural trail through woodland and a purpose-built mountain bike track at Alyth Bike Park.
Scottish Outdoor Access Code: Know the code before you go
Please use the arrows on left/right side to go to previous/next route.
You can download our booklet, From Deep Time To Our Time, Cycling Across The Cateran Ecomuseum here.
Route Stats
Suitable for: Mountain bikes (or experienced gravel bike riders)
Total Distance: 12.7 km
Total Ascent: 290 m
Terrain: A mixture of singletrail, a purpose-built mountain bike track, landrover tracks, gravel tracks and short sections on quiet tarmac roads
Access: Some gates that can be easily opened
Route Category: Straightforward
Riding Time: 1.5 - 2 hrs
Start/Finish: Alyth Market Square
OS Grid Ref: NO 24612 48519
Nearest Parking: At the start
Key Facilities on Route: Alyth (accommodation, bike shop, shops, restaurants, cafes), Bamff (accommodation, honesty cafe and shop)
OS Landranger Map: 53 (or custom Cateran Ecomuseum map)
For information on local accommodation & services click here
Route Description
After passing Alyth Cycles and the Barony Cafe on its way, the route leaves the small market town of Alyth on the Cateran Trail, climbing steeply on a landrover track. At a gate the route leaves the Cateran Trail and follows a grassy singletrail towards the top of the Hill of Alyth, a surviving commonty because it has never been divided by proper judicial process. The route bypasses the top on the western side, which is a very short and worthwhile detour, continuing on grassy trails across the hill and joining the Cateran Trail again. This last section is more eroded, so extra care is needed here.
Meeting Balwhyme Road the route takes a left turn and follows the road for a while, and then takes a right turn towards Bridge of Cally. At the Gate Lodge the gravel track is followed into Bamff Estate, which has become known for its fascinating beaver project and abundant wildlife. It attracts wildlife enthusiasts and experts throughout the year. Passing the beaver habitat on the right a small honesty cafe at Bamff House is a good rest stop. Following the Cateran Trail the route meets the road again, take a left turn here.
After another short section on tarmac the route follows another grassy double track along a fence to Whiteside. Shortly before the house (abandoned) the route follows a smaller path to the edge of a woodland, through which a natural singletrail (marked by green dots on trees) leads to the start of a blue-graded purpose-built singletrail through the forest. From the end another track leads back to Alyth. Find out more about some of the key Points of Interest below.
Along the way you will find these points of interest:
Den 'o' Alyth

A woodland walk along part of the Highland Boundary Fault. The Den ('narrow valley' or 'gorge') o' Alyth is a wooded glen through which the Alyth Burn runs. Part of the geography of the Highland Boundary Fault, it lies on the outskirts of...

Read more

Bamff Wildland Project

The newest re-wilding project in the Ecomuseum. Bamff is an upland farm close to Alyth owned by the Ramsay family. From the 1980s, they have been doing pioneering environmental restoration including, since 2002, the successful re-introduction of...

Read more

Hill of Alyth

A walk along an ancient drove road to an historic viewpoint. Rising steeply on the northern edge of the burgh of Alyth to 300m (984ft), the Hill of Alyth provides a brisk walk on part of the Cateran Trail along old drove roads and tracks across...

Read more