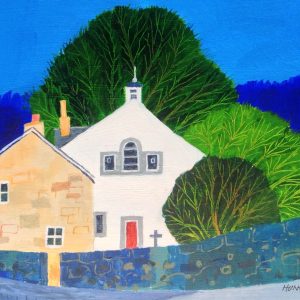 Summary
The ancient heart of Strathardle.
Kirkmichael village dates back over 1,000 years and was once an important market in the cattle trade between the Highlands and Lowlands, with various drove roads converging on the village.
The points of interest in this itinerary can be visited in three parts. A walk around the village will take you around an hour. You can enjoy Dirnanean Garden in around 1-1.5 hours and a hike from Enochdhu up to the Lunch Hut and back will take you around 3 - 5 hours.
Scottish Outdoor Access Code: Know the code before you go
You can download our booklet, From Deep Time To Our Time, Walking Across The Cateran Ecomuseum here.
You can also listen to an audio version of each Point of Interest, spoken by Kirkmichael resident, Angela Souter. 
Please use the arrows on left/right side to go to previous/next route
More information
The James Small Monument and Ballintuim Church lie on the road to Bridge of Cally.
You can read an introduction to the Village here and find out more about each point of interest below.
You can download a copy of the leaflet that accompanies this itinerary here.
You can also enjoy a 5 mile audio walk along the Cateran Trail from Ballintuim to Kirkmichael, listening to autobiographical interviews of people baptised there, created by the artist Liz Crichton – details here.
With thanks to the Mount Blair Community Archive for help in putting together the content for this itinerary.
For information on local accommodation & services click here
Find out more about some of the key Points of Interest below.
Along the way you will find these points of interest: