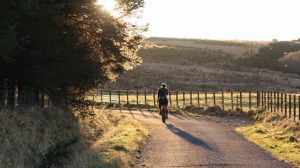 Summary
This easy loop, suitable for most bikes, takes you past one of the many prehistoric standing stones in the area and through Bealach Gabráin, the narrow pass between the Hill of Loyal and the famous Iron Age fort of Barry Hill. It continues through beautiful farmland landscapes and the Den 'O' Alyth's ancient woodland.
Scottish Outdoor Access Code: Know the code before you go
Please use the arrows on left/right side to go to previous/next route.
You can download our booklet, From Deep Time To Our Time, Cycling Across The Cateran Ecomuseum here.
Route Stats
Suitable for: Road bikes
Total Distance: 12.2 km
Total Ascent: 160 m
Terrain: A mixture of quiet roads, all on tarmac
Access: Fully accessible with no gates
Route Category: Easy
Riding Time: 1 - 1.5 hrs
Start/Finish: Alyth Market Square
OS Grid Ref: NO 24612 48519
Nearest Parking: At the start
Key Facilities on Route: Alyth (accommodation, shops, restaurants, cafes)
OS Landranger Map: 53 (or custom Cateran Ecomuseum map)
For information on local accommodation & services click here
Route Description
The route starts in Alyth's historic Market Square. It follows Commercial Street first, then up the famous 'Toutie Street' before taking a right turn onto Meethill Road (B952). As you leave the town you can visit one of the many prehistoric standing stones in the area. After about 750m the road then bears left towards Glenisla on the B954, up a short, but steep incline. It passes through the narrow Bealach Gabráin which runs between the Hill of Loyal and Barry Hill, the site of one of the best examples of an Iron Age fort and famous for its link to the King Arthur legend. After about another 500m the route continues on a single track road on the left (Balwhyme Road), signposted to Bamff. The route follows this road right to the end to a T-junction. Turn left here to return through the Den 'O' Alyth on Bamff Road back to the start.
Find out more about some of the key Points of Interest below.
Along the way you will find these points of interest: