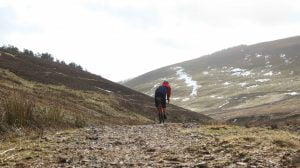 Summary
An all day gravel adventure through the heart of the Cateran Ecomuseum with great views of mountains, quiet lochs, old castles and a breathtaking waterfall.
Scottish Outdoor Access Code: Know the code before you go
Please use the arrows on left/right side to go to previous/next route.
You can download our booklet, From Deep Time To Our Time, Cycling Across The Cateran Ecomuseum here.
Route Stats
Suitable for: Gravel bikes (we recommend at least 39mm wide tires)
Total Distance: 63.7 km
Total Ascent: 860 m
Terrain: A mixture of forest tracks, landrover tracks, quiet roads and singletrails
Access: Some gates that can easily be opened
Route Category: Expert
Riding Time: 6 - 8 hrs
Start/Finish: Freuchies Car Park
OS Grid Ref: NO 22424 60801
Nearest Parking: At the start, additional parking at Kirkton of Glenisla (alternative start)
Key Facilities on Route: Peel (cafe & farm shop), Kirkton of Glenisla (hotel)
OS Landranger Map: 44/53 (or custom Cateran Ecomuseum map)
For information on local accommodation & services click here
Route Description
The route begins in Freuchies near Kirkton of Glenisla and follows a wide gravel path through the extensive Glenisla Forest to Glenmarkie Lodge. A path north of the lodge leads you into the open landscape. Pushing the bike may be necessary here as this gets very boggy. Shortly afterwards the route continues on another wide gravel track that leads south past an abandoned house in Barny to Backwater Reservoir. A quiet tarmac road with picnic places along the way leads to the dam. From the end of the reservoir the route follows quiet and picturesque roads to Balintore Castle, which can be seen from a good distance, located on the moorland above a small village.
Shortly before Knowhead the route follows a gravel path on the right-hand side through beautiful, open hilly landscapes, past an abandoned homestead. If you are in a hurry, you can take the gravel road to Braes of Coul as a shortcut. Continue along the periphery of Kinclune Hill before continuing on quiet roads to Woodside Cottage, from where a smooth gravel path leads through the woods to West Campsie. Shortly afterwards the route reaches the wildlife reserve Loch of Lintrathen. Peel Farm on the southern end of the loch is a great coffee stop, and the route continues on quiet roads to Bridge of Craigisla. The stunning Reekie Linn waterfall is just a short walk away.
From here a small road leads past Broom Hill to Brewlands, with a wonderful view of the mountains of the Southern Cairngorms National Park. From Brewlands the route follows a small road towards Folda and takes a dirt road to the right towards Auchintaple Loch. The route follows the Cateran Trail to Loch Shandra and on to the hotel in Kirkton of Glenisla, a great final stop before the route ends in the parking area in Freuchies.
Find out more about some of the key Points of Interest below.
Along the way you will find these points of interest: