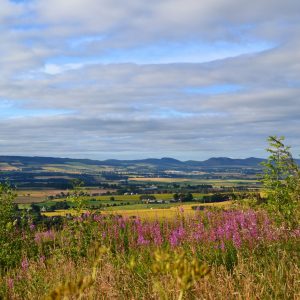 Summary
Rising steeply on the northern edge of the town to 300m, this brisk walk up the Hill of Alyth on part of the Cateran Trail along old drove roads and tracks across open grassland will take you about 2 hours.
Once at the top you can enjoy panoramic views south to the fertile farmlands of Strathmore and the Sidlaw Hills and north to the Cairngorm Mountains.
Scottish Outdoor Access Code: know the code before you go
You can download our booklet, From Deep Time To Our Time, Walking Across The Cateran Ecomuseum here.
Please use the arrows on left/right side to go to previous/next route
More information
The walk will take you past the site of a pre-Christian Holy Well and onto the largest and most important commonty (area of common land) still in existence in Scotland.
You can continue past the viewpoint down the eastern side of the hill, which will take you back into the town a different way, or return the way you came. You can also learn about the geology of the Hill of Alyth by looking at our geology itinerary here.
Route Stats
Total Distance: 4.4 km
Total Ascent: 170 m
Terrain: Hilly on paths and a short section on the road. Good footwear needed.
Route Category: Straightforward
Walking Time: 1.5 - 2 hrs
Start/Finish: Toutie Square Alyth
OS Grid Ref: NO 24524 48829
Nearest Parking: In town
Key Facilities on Route: Alyth (accommodation, shops, restaurants, cafes)
OS Landranger Map: 53 (or custom Cateran Ecomuseum map)
For information on local accommodation & services click here
Route Description
Start at the top of Toutie Street and follow the Cateran Trail towards Bridge of Cally out of town on the old drove road. The track climbs steeply towards the top of the hill. On the fork take the path to your right and then to the left towards the trig point. The views from here are outstanding on a good day. Follow the track east to a gate, at which you rejoin the Cateran Trail back to Alyth.
Find out more about some of the key Points of Interest below.
Along the way you will find these points of interest:
Hill of Alyth

A walk along an ancient drove road to an historic viewpoint. Rising steeply on the northern edge of the burgh of Alyth to 300m (984ft), the Hill of Alyth provides a brisk walk on part of the Cateran Trail along old drove roads and tracks across...

Read more

The Highland Boundary Fault

One of Scotland's most ancient geological features. The Highland Boundary Fault is a geological fault line that runs across Scotland from Arran in the west to Stonehaven in the east, traversing the southern edge of the Cateran Ecomuseum. Along...

Read more