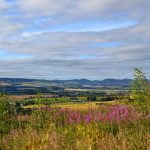 Rising steeply on the northern edge of the town to 300m, this brisk walk up the Hill of Alyth on part of the Cateran Trail along old drove roads and tracks across open grassland will take you about 2 hours.
Once at the top you can enjoy panoramic views south to the fertile farmlands of Strathmore and the Sidlaw Hills and north to the Cairngorm Mountains.
The walk will take you past the site of a pre-Christian Holy Well and onto the largest and most important commonty (area of common land) still in existence in Scotland.
You can continue past the viewpoint down the eastern side of the hill, which will take you back into the town a different way, or return the way you came. You can also learn about the geology of the Hill of Alyth by looking at our geology itinerary here.
Along the way you will find these points of interest:
Hill of Alyth

A walk along an ancient drove road to an historic viewpoint. Rising steeply on the northern edge of the burgh of Alyth to 300m (984ft), the Hill of Alyth provides a brisk walk on part of the Cateran Trail along old drove roads and tracks across...

Read more

The Highland Boundary Fault

One of Scotland's most ancient geological features. The Highland Boundary Fault is a geological fault line that runs across Scotland from Arran in the west to Stonehaven in the east, traversing the southern edge of the Cateran Ecomuseum. Along...

Read more