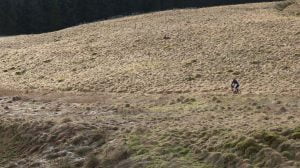 Summary
This route combines great off-road cycling with a fabulous quiet road with rewarding views, featuring parts of the Cateran Trail.
Scottish Outdoor Access Code: Know the code before you go
Please use the arrows on left/right side to go to previous/next route.
You can download our booklet, From Deep Time To Our Time, Cycling Across The Cateran Ecomuseum here.
Route Stats
Suitable for: Gravel and mountain bikes
Total Distance: 18.3 km
Total Ascent: 290 m
Terrain: A mixture of tracks, paths and quiet roads
Access: Some gates (which can be avoided)
Route Category: Straightforward
Riding Time: 2 - 3 hrs
Start/Finish: Kirkton of Glenisla Village Hall
OS Grid Ref: NO 21403 60404
Nearest Parking: At the start
Key Facilities on Route: Kirkton of Glenisla (accommodation, restaurant)
OS Landranger Map: 43/44/53 (or custom Cateran Ecomuseum map)
For information on local accommodation & services click here
Route Description
The route starts at the Glenisla Village Hall, which provides car parking and picnic benches. It follows the B951 towards Kirriemuir for about 1.5 km, then following the track to the right for Whitehills and East Cammock after the East Mill House Pond. The route follows the Cateran Trail, one of Scotland's great long distance paths, on a track to Loanhead Farm. The route turns right and climbs up Kilry Hill, where it flattens and passes a cattle grid, and peaks at the second cattle grid. It's worth stopping here for a break as the views are spectacular.
Following the road down the Glenisla side of the hill, the route passes Auchenleish Farm and Brewlands. Turn right where it meets the B951 and back to the start in Kirkton of Glenisla, where the hotel is only 100m away from the finish for refreshments.
Find out more about some of the key Points of Interest below.
Along the way you will find these points of interest: