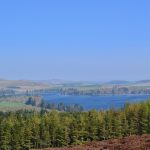 This cycling tour takes you toward the eastern boundary of the Cateran Ecomusuem and around the pretty Loch of Lintrathen and is 26km (16.1m).
There is 450m of ascent along the way and you will need a road bike. You can hire bikes from Alyth Cycles who are based at the Barony in the centre of the town, or Lintrathen Cycles.
After leaving the centre of 'Auld Alyth' it takes you along the northern edge of Strathmore across the River Isla, one of the largest tributaries of the River Tay, before turning north to the Loch of Lintrathen. There are a number of points of interest along the way that you can find out about below. Depending on how long your stops are it will take between 2.45 and 3.30 hours.
- Start your tour by heading up Toutie Street to the top of the town
- Bear right along the B952, this takes you eastwards out of the town
- After about half a mile the road forks, take the right hand fork
- Continue along the road for about 4km (2.5m) until you come to a bridge across the River Isla and a T junction shortly thereafter.
- Turn left up a relatively steep incline for about another 1.6km (1m), the road then turns right sharply
- Continue along the road for about another 1.2km (3/4m) until you come to a left hand turn
- Take this road and travel along it for about 4km (2.4m) until you come to the shores of the Loch of Lintrathen
- Turn right and then left to circle the Loch
- Turn right to return to Alyth
Along the way you will find these points of interest: