Included in these itineraries:
A walk along part of the Cateran Trail with beautiful views across Strathmore to the Sidlaw Hills
This geotour, which will take you around 2 hours, starts at the Woolmarket at the top of the town where cars may be parked.
Details of the route can be found in the map below (circular route).
Walk north up the Cateran Trail past the Lands of Loyal Hotel. The drystane dykes either side of the path are made of the same red sandstone as most of the houses in Alyth. At the first gate NO24794935 there is a large grey boulder of granite - a glacial erratic. Smaller granite boulders are built into the drystane dykes above here.
Continue up past the reservoir.
-3-22763
56-62984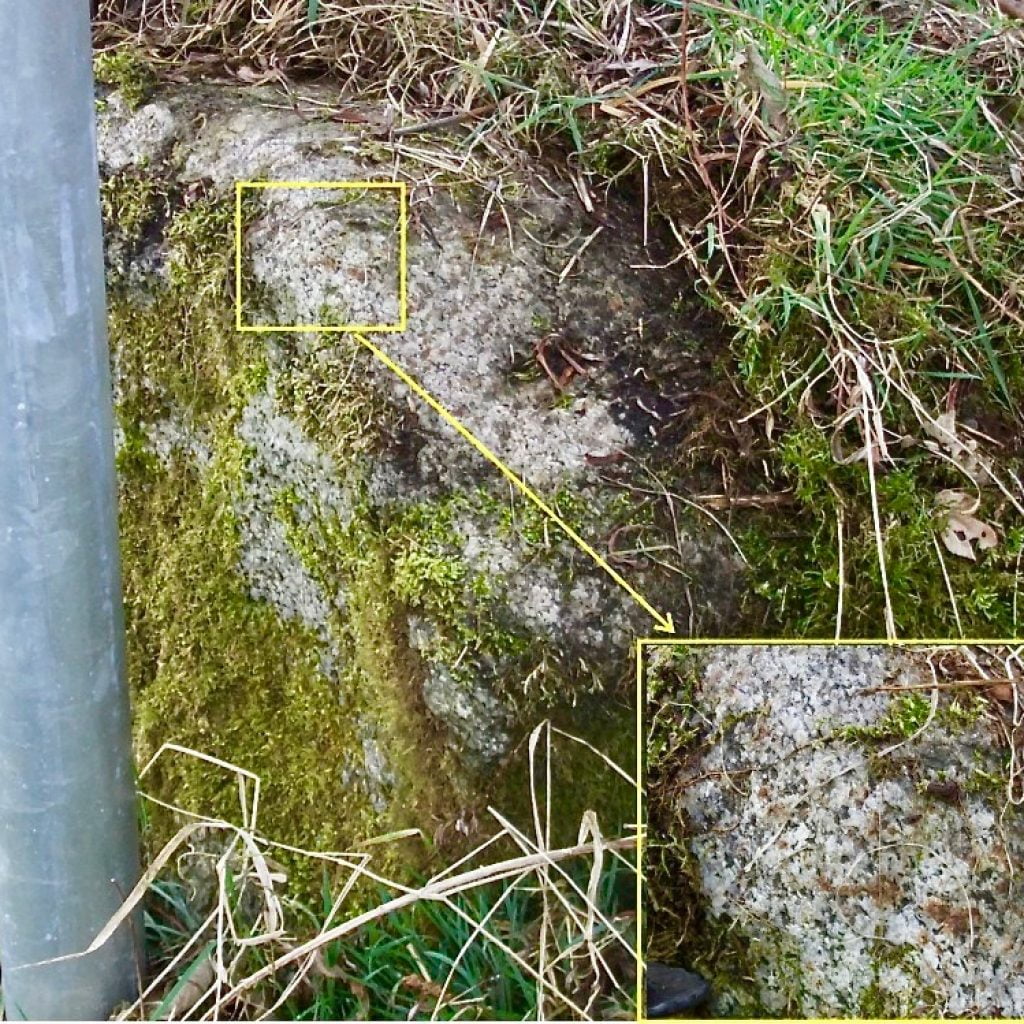 400m farther on, past where a field drain crosses the track, at NO24854973 bedrock is exposed in the track, which is often rather wet here. Layers of reddish brown conglomerate and sandstone form low ridges across the road; the layers dip southwards at about 40 degrees.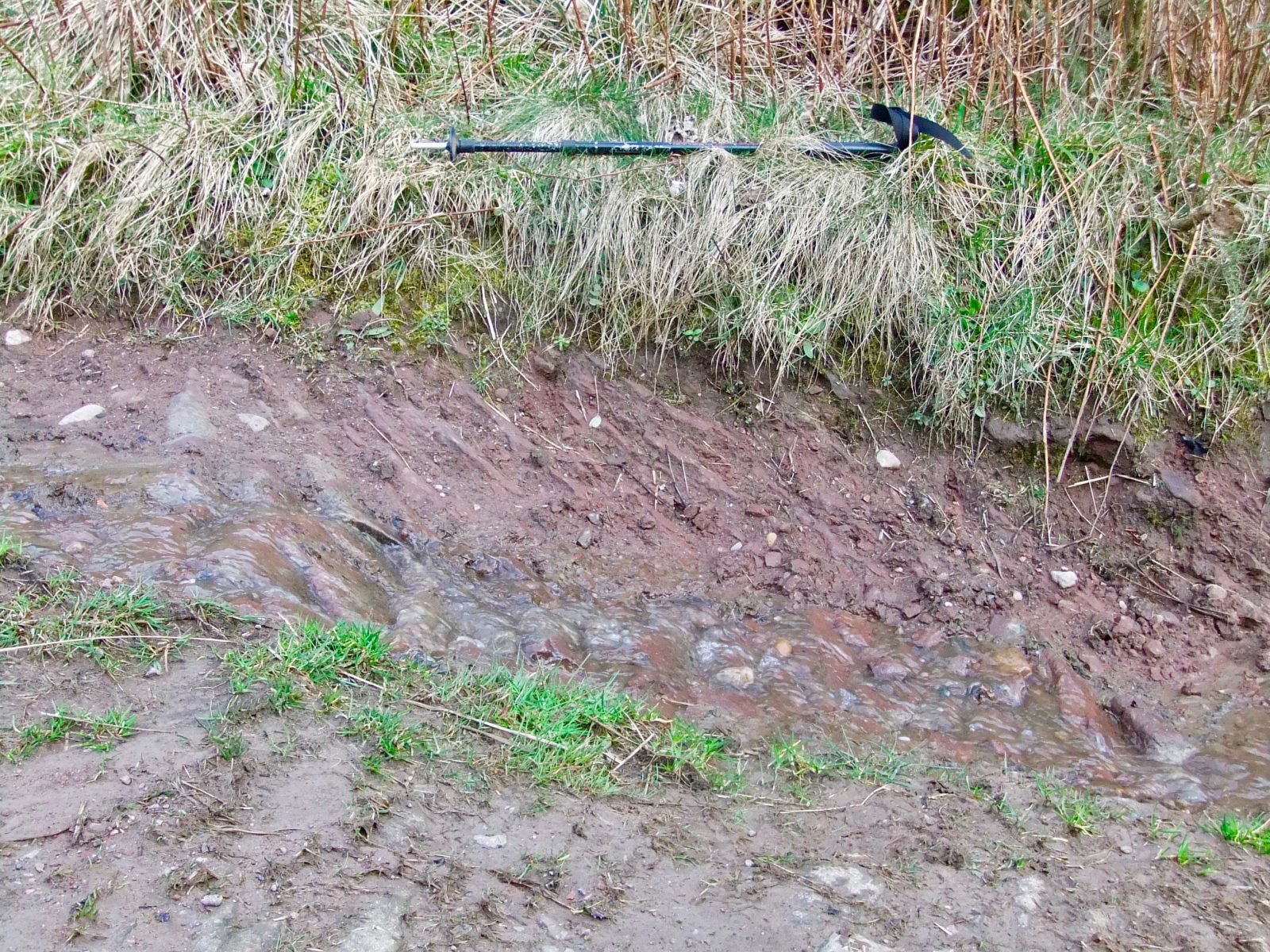 The pebbles in the conglomerate are well rounded, having been laid down as river gravel.
-3-22659
56-63373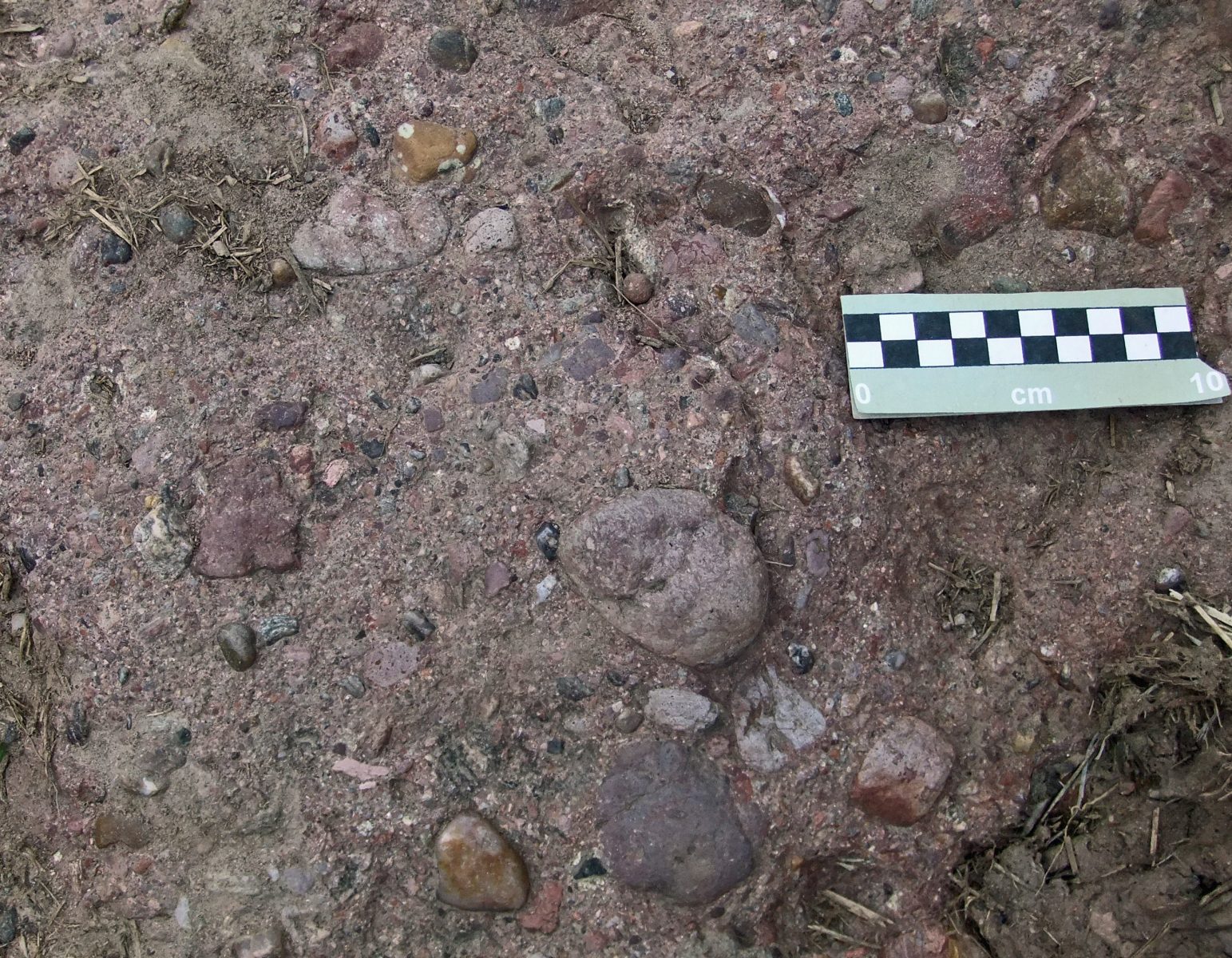 Near the last field gate before the open hill there are a few more erratic boulders of granite and also grey schist. Leave the Cateran Trail here and head northwest up the path slightly to its left. After about 450m this path turns west and flattens out. The summit of the hill can be seen ahead.
A bench near the summit provides a beautiful view across Strathmore to the Sidlaw Hills. Sir Charles Lyell, one of the great 19thcentury pioneers of geology, came from Kinnordy near Kirriemuir and conducted his early fieldwork here. He examined sandstone and whinstone quarries throughout the area and deduced the rocks in Strathmore are folded into a shallow basin - now known as the Strathmore Syncline.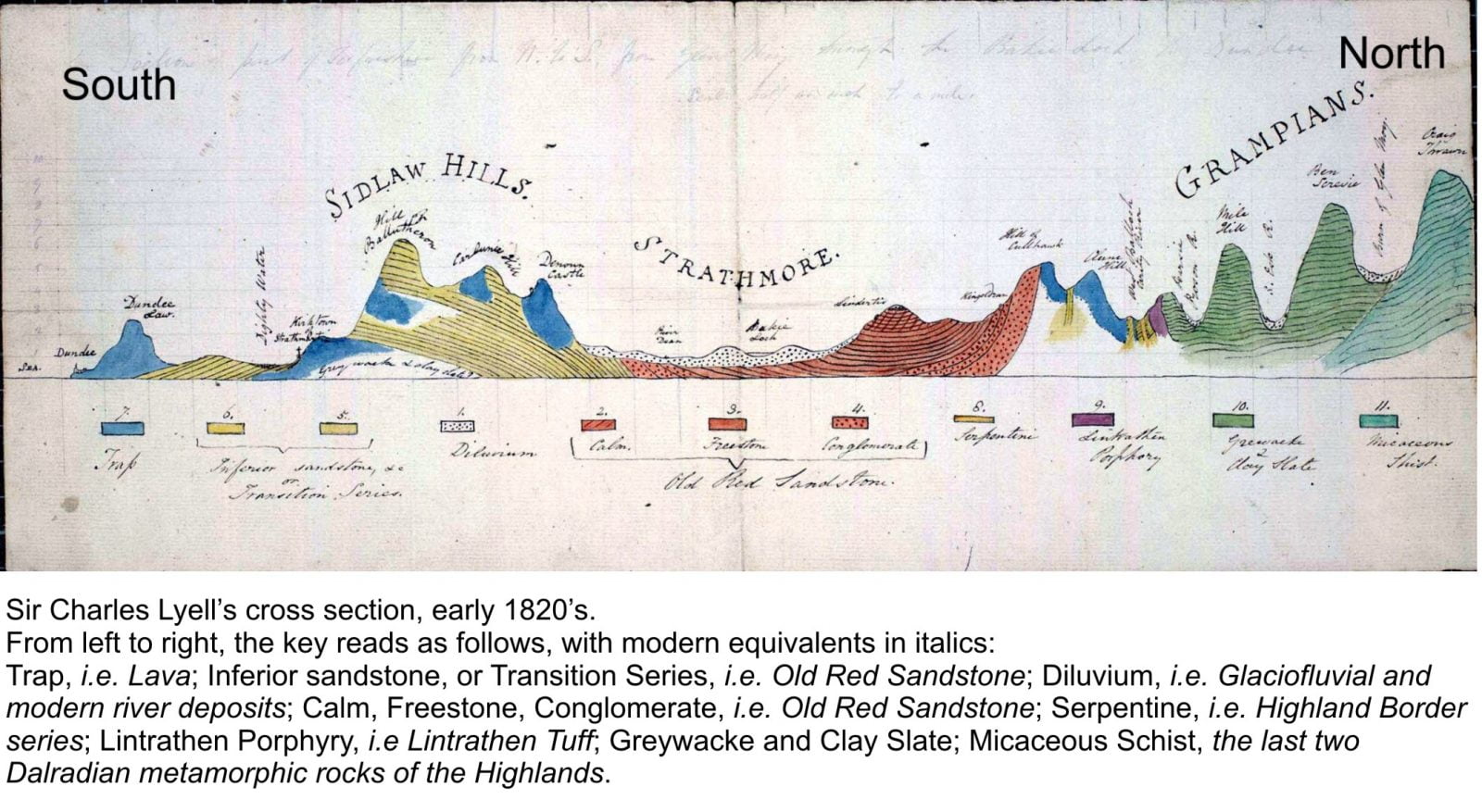 There are more glacial erratics in the summit area, including interesting groups of shattered schist boulders on two knolls some 100m SW of the summit. See how many you can find.
About 100m west of the summit, a steep gully on the north side of the hill at NO24185035 has good exposures of conglomerate with sandstone interbeds dipping south at 40 degrees.
-3-23784
56-63945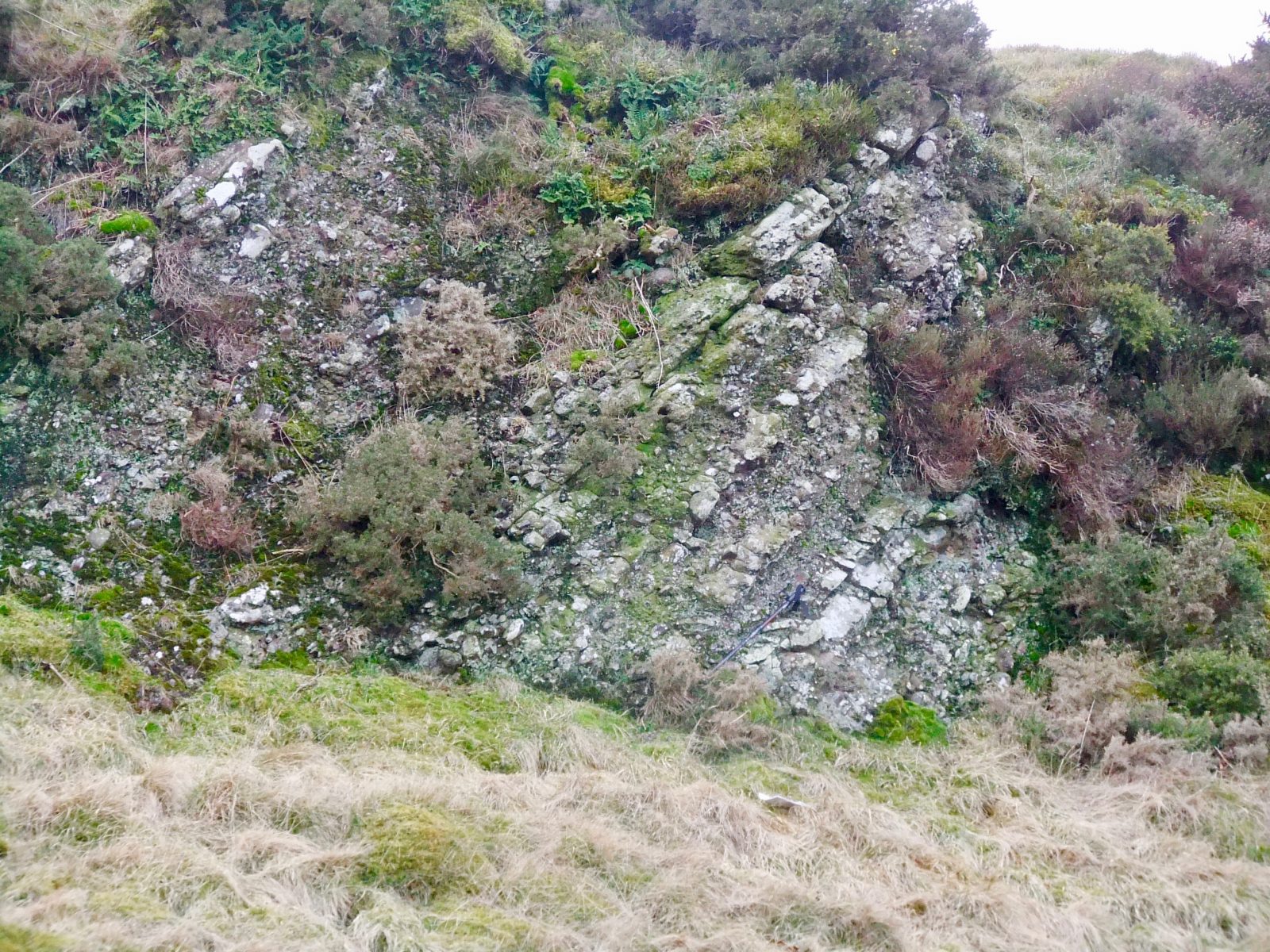 The valley of the Bruckly Burn on the north side of the hill marks the course of the Highland Boundary Fault.
Return by the outward route, or continue west from the summit to join another branch of the Cateran Trail at NO23795000, which leads back to Alyth between blocks of new woodland. The drystane dykes on this track are built of field stones cleared from the soil, rather than quarried red sandstone. They are mostly rounded and comprise a variety of rock types.
Back in the town, a high wall on the north side of the High Street just left of a large wooden door is built mostly of red sandstone but also contains an interesting variety of rock types: black whinstone (W), grey schist and whitish granite (G).
-3-23240
56-62517