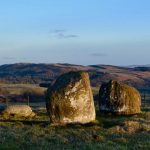 This cycling tour through rolling countryside offering spectacular long distance views starts and ends in Alyth and is 25.5km (15.8m) long.
There is 541m of ascent along the way and you will need a mountain bike. You can hire bikes from Alyth Cycles who are based at the Barony in the centre of the town.
It takes you past a number of pre-historic sites in the area and the favourite local walking spot of Drimmie Woods before reaching the birthplace of the famous covenanter Donald Cargill and coming to a close along the pretty Tullymurdoch and St Fink road with its breathtaking views of Strathmore. Depending on how long your stops are, it will take between 2.45 and 3.30 hours.
- Start your tour by heading west out of Alyth past the Den 'o' Alyth and out towards Bamff.
- After a little over 3.2km (2m) the road bends round to the left past the gatehouse at the junction for the Bamff Estate
- Keep going up the hill for around half a mile and you will see a left hand turn signed toward Bridge of Cally
- Follow this stretch of the road for about three miles (you'll come upon a very sharp left bend) until you come to a T junction
- Turn left down towards Drimmie Woods and Blairgowrie
- About a mile after the Kynballoch Stone (see below) you will see a wide path leading off the the left. There is a path sign, but it is on the south side and it says Cargill's Way. Take this path all the way down until it meets the Tullymurdoch and St Fink road
- Turn left towards Alyth for about 3 miles until the road becomes another T junction
- Turn right onto the road you came out of Alyth on
Along the way you will find these points of interest: