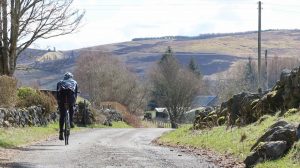 Summary
This easy loop, suitable for most bikes, takes you through the spectacular scenery of one of the Ecomuseum's loveliest glens. Riding alongside the River Isla you will pass by some of its most historic sites and hidden treasures.
Scottish Outdoor Access Code: Know the code before you go
Please use the arrows on left/right side to go to previous/next route.
You can download our booklet, From Deep Time To Our Time, Cycling Across The Cateran Ecomuseum here.
Route Stats
Suitable for: Road bikes
Total Distance: 8.31 km
Total Ascent: 60 m
Terrain: A mixture of quiet roads, all on tarmac
Access: Fully accessible with no gates
Route Category: Easy
Riding Time: 0.5 - 1 hr
Start/Finish: Car park at Folda
OS Grid Ref: NO 18751 64506
Nearest Parking: At the start
Key Facilities on Route: None
OS Landranger Map: 43 (or custom Cateran Ecomuseum map)
For information on local accommodation & services click here
Route Description
The route starts at the small car park in Folda. If full, a bigger car park is available at Kirkton of Glenisla, which also provides picnic benches and a toilet (the route can be joined at Doldy Farm). Shortly after crossing the river on Forter Bridge, the route takes a left turn on a T-junction. 16th century Forter Castle, which burnt down and was finally rebuilt in the late 20th century, is a prominent landmark on the left, before another left turn at a T-junction takes you back onto the B951, heading southbound. The route passes The Doonies and the Games Haugh, where the Glenisla Highland Games are held each August. The route crosses the Isla again at Brewlands Bridge, and follows the River Isla northbound, passing Balnamennoch Farm, Glenisla House and the village of Folda.
Find out more about some of the key Points of Interest below.
Along the way you will find these points of interest: