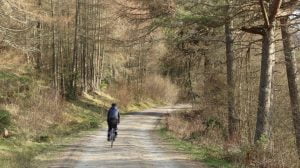 Summary
This is a family-friendly itinerary that involves no public roads, offering various side options to extend the route.
Scottish Outdoor Access Code: Know the code before you go
Please use the arrows on left/right side to go to previous/next route.
You can download our booklet, From Deep Time To Our Time, Cycling Across The Cateran Ecomuseum here.
Route Stats
Suitable for: Gravel bikes
Total Distance: 12.1 km
Total Ascent: 180 m
Terrain: A mixture of gravel tracks
Access: No gates
Route Category: Straightforward
Riding Time: 1.5 - 2 hrs
Start/Finish: Freuchies Car Park
OS Grid Ref: NO 22424 60801
Nearest Parking: At the start
Key Facilities on Route: None, but Kirkton of Glenisla nearby
OS Landranger Map: 44 (or custom Cateran Ecomuseum map)
For information on local accommodation & services click here
Route Description
The route starts at the Freuchies car park close to Kirkton of Glenisla. From the car park the route follows the track to the left, passing Loch Shandra. The route follows the gravel track up the hill past the Tulloch cottage and flattens out, passing Craigie Hill on the right. Here are various other tracks to explore as well, but the route continues straight over the crossroads down to Glenmarkie Lodge. The track to the right takes you past the lodge and over the Glenmarkie track back to Freuchies.
Find out more about some of the key Points of Interest below.
Along the way you will find these points of interest: