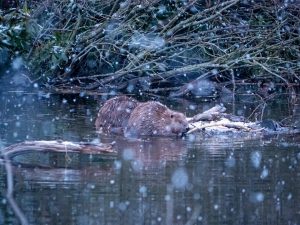 Summary
One of Scotland's newest rewilding projects
This walking route takes you along part of the Cateran Trail through the beautiful woods of Bamff Estate and will take you around 1-1.5 hours.
You will see evidence of Beavers and the extraordinary landscape of wetlands in between the fields and woods that they have created and glimpse Bamff House itself, which has been owned by the Ramsay family since 1232.
Scottish Outdoor Access Code: know the code before you go
You can download our booklet, From Deep Time To Our Time, Walking Across The Cateran Ecomuseum here.
Please use the arrows on left/right side to go to previous/next route
Route Stats
Total Distance: 4.21 km
Total Ascent: 40 m
Terrain: Mostly flat on paths & quiet roads
Route Category: Easy
Walking Time: 1 - 2 hrs
Start/Finish: Car park on Balwhyme Road
OS Grid Ref: NO 23050 50799
Nearest Parking: At start
Key Facilities on Route: Bamff (honesty cafe & accommodation)
OS Landranger Map: 53 (or custom Cateran Ecomuseum map)
For information on local accommodation & services click here
Route Description
Start at Balwhyme road and follow the Cateran Trail northbound into Bamff Wildland. At Burnieshead of Bamff take the path to your left, which takes you past one of the beaver habitats on the estate. At the end of the path turn right on an estate track, passing Bamff House with a small honesty cafe. Continue on the track (also the route of the Cateran Trail) past the Gamekeeper's Cottage. Where the track meets the road, turn left and continue on the road south. Shortly after the gate lodge take Balwhyme Road to your left back to the start.
Find out more about some of the key Points of Interest below.
Along the way you will find these points of interest:
Bamff Estate

A pioneering example of ecology restoration. Bamff is a 1,300 acre estate carved out of the old Royal Forest of Alyth. In 1232, King Alexander II gave it to Neish Ramsay, his doctor, and his descendants have held it ever since. The present house...

Read more

Bamff Wildland Project

The newest re-wilding project in the Ecomuseum. Bamff is an upland farm close to Alyth owned by the Ramsay family. From the 1980s, they have been doing pioneering environmental restoration including, since 2002, the successful re-introduction of...

Read more