It is widely accepted that our planet home is in a biodiversity crisis.
In just a few decades, a large part of the world's biological diversity the result of tens of millions of years of evolution – has disappeared. What is being described as a sixth mass extinction event – driven by our destruction of habitats – is underway.
Added to this, our ever-increasing greenhouse gas emissions are causing global climate change – putting additional stress on the already severely damaged flora and fauna.
Here in Scotland, The State of Nature 2019 report found that the abundance of species in Scotland is falling at a faster rate than the UK as a whole, due to land management practices, pollution, house building and human induced climate change that have in many cases intensified over the last 5-200 years.
Cladonia Cristatella (British Soldiers) lichen, Glen Beanie, Photo Clare Cooper
In response to these crises, individuals, communities, organisations and governments around the world are mobilising to prevent, halt and reverse the degradation of ecosystems.
VITAL SIGNS is part of that global mobilisation – the first stage of a programme of work, which aims to generate greater engagement with and stewardship of the Ecomuseum's river system by local people and visitors by bringing the environmental discipline of Palaeoecology and the public engagement mechanism of citizen science into play to tell a new story about one of the Ecomuseum's principal rivers, the River Ericht.
River Ericht near Blairgowrie, photo Clare Cooper
Palaeoecology (palaeo means old) includes a range of scientific methods with a common goal: to provide an understanding of how ecosystems and individual species function and change over long time periods – where 'long' can refer to decades, centuries or millennia.
Whereas historians use written archives, palaeoecologists rely on natural archives, that is, sediments like peat and lake mud that build up over time and store signals from the environment in that process. Waterlogging in these natural archives reduces decay, so indicators from the environment – in the form of pollen grains, charcoal fragments, plant, fungal and insect remains, minerals, heavy metals and chemical pollutants – do not decompose and are preserved in layers of peat and mud that accumulate over time. These indicators are often referred to as 'proxies' because they allow us to reconstruct conditions that we cannot directly observe.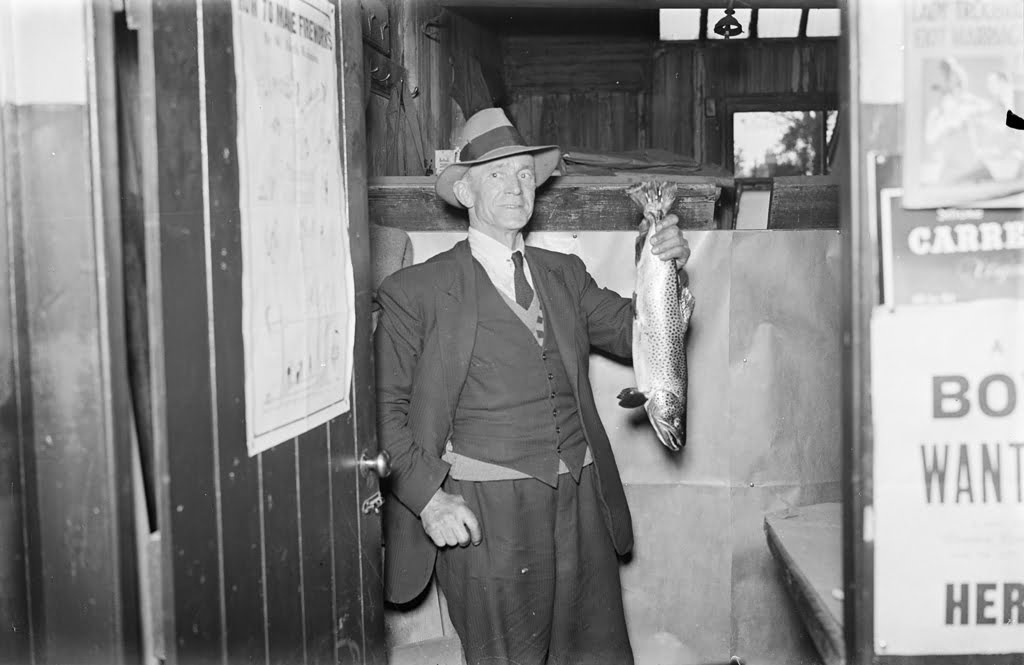 Freshly caught Trout 1935, Photo, Laing Photographic Collection
Focusing initially on the River Ericht and its catchment, a series of activities took place during 2021, which began to reveal its past and present ecology – laying the foundations for a better understanding of how the story of our past might help guide the story of our future:
A desk-based palaeoecological study of the River Ericht and its catchment reviewed the landscape and land-use history over the last 10,000 years. This revealed the layers of human and environmental history that shape contemporary landscapes, making them more visible.
An assessment of potential sites for future coring in the catchment area (which would enable sediment and pollen analyses from past eras) identified a number of lowland and upland sites that could be investigated in the next stage of the project. This would yield important information on past ecological and climate changes.
A new Geotour was developed in the Ericht's broader catchment area at Glenshee, which offers insights into the physical evidence left by the last glaciers in Glenshee c11,700 years ago.
Looking up Glenn Beag from the Spittal of Glenshee, photo Clare Cooper
Engaging local people in present day environmental observations offered:
Tree Surveying in Craighall Gorge – one of the Ecomuseums last remnants of designated Ancient Forest and a Special Area of Conservation.
Volunteers recruited by the Ecomuseum were invited to assist the Tay Ghillies Association in collecting data for their Smart Rivers Project.
Bioblitz on the River Ericht, September 2021, Photo Clare Cooper
A Bioblitz event on the banks of the Ericht in Blairgowrie – the first ever undertaken in this area – gave local people the opportunity to get to know more about the flora and fauna in and around the river today.
You can read more about this project and what we aim to do next in this leaflet, a summary of which can be viewed in this short film.
This first stage has been made possible by funding from the Gannochy Trust and is part of the Cateran Ecomuseum's 2021 Museum of Rapid Transition Programme in partnership with Alyth Development Trust.
We would like to extend a special thanks to Dr Althea Davies, Dr Richard Tipping, The Conservation Volunteers, Bob Mason of The Tay Ghillies Association, River Ericht River Convenor, Grant Kellie, John Reynolds, Sam Mercer Nairne, Scott Paterson and Martin Robinson for all their help and support.