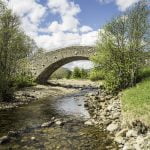 Historically, Glenshee has always been an important route through the Eastern Highlands, and this may well have been the case in prehistoric times.
With traces of human settlement going back millennia and centuries of droving and wayfaring, legends have woven their way into the landscape of the Glen and stories of clan warfare, fearsome Cateran cattle rustlers and tales of travellers tragedies and fortune abound.
The Glen folk are renowned for their courage and valour and for beguiling the people passing through their lands, even Queen Victoria stopped to make acquaintance with the locals she regularly passed by.
Today you can cycle or drive through the Glen on the Snow Roads Scenic Route or walk its northern reaches on the Cateran Trail and in the Cairngorms National Park.
Whatever your mode of transport, this itinerary offers you the opportunity to stop along the way, take the time to enjoy the dramatic landscapes and learn about some of the area's rich heritage and history.
You can read the leaflet that accompanies this itinerary here.
Along the way you will find these points of interest: