03nov(nov 3)10:00 am11(nov 11)3:00 pmScotland's Voices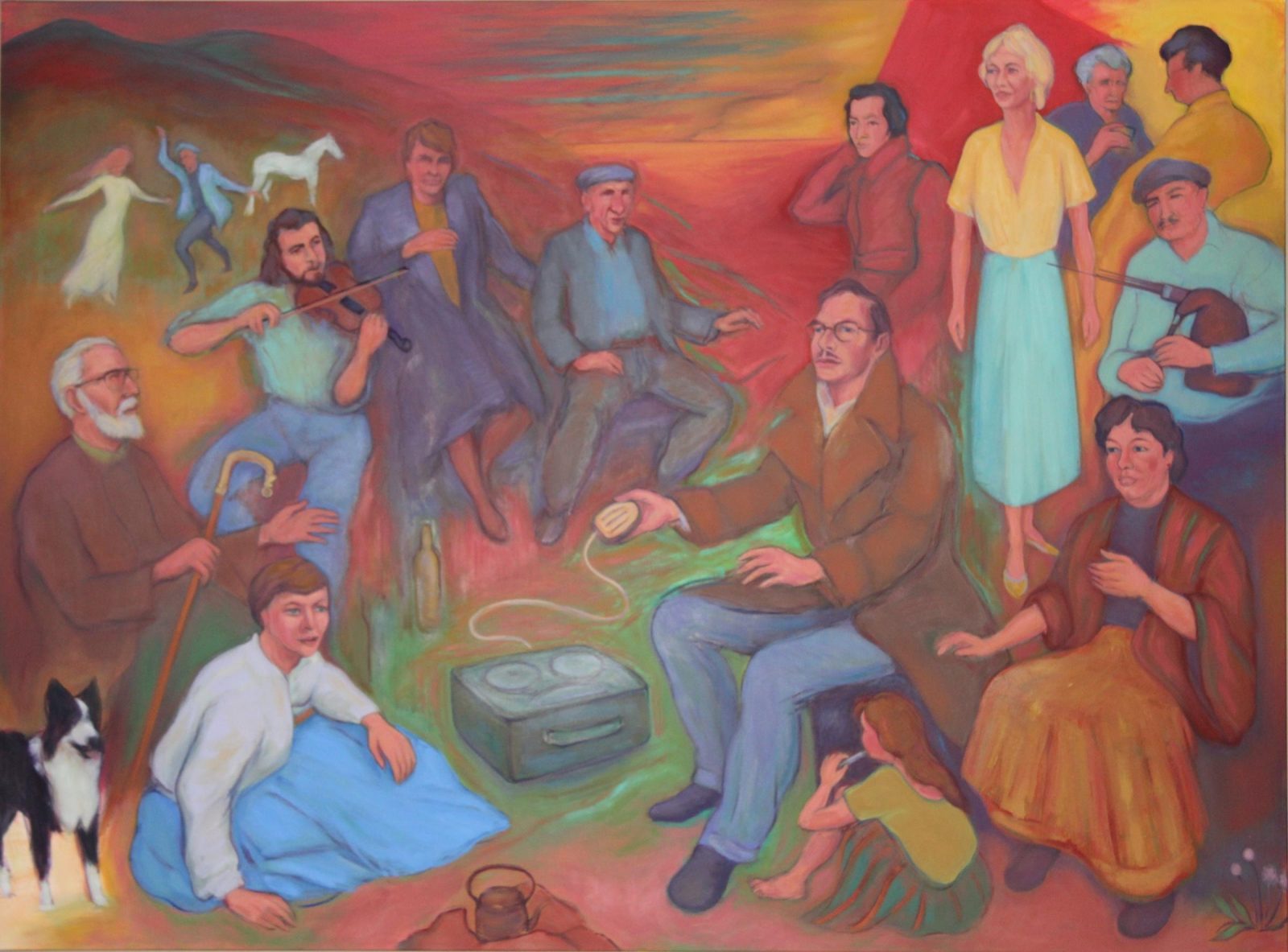 Event Details

Scotland's Voices is Alexander (Sandy) Moffat's landmark painting (that's him on the left of the photo), which celebrates and represents the oral tradition in Scottish culture. Set in 1959, it depicts and imagines singers, musicians, archivists and recorders, poets and thinkers committed to the folk tradition in its widest sense. Hamish Henderson, a pivotal figure in the revival of the Scottish folk scene is at the centre and gathered around him are a clutch of figures: travellers Jeannie Robertson, Belle Stewart and Jimmy MacBeath, Border shepherd and crook-maker Willie Scott, singers Jean Redpath and Dolina MacLennan, Shetland fiddler Aly Bain and piper Allan MacDonald.

After studying at Edinburgh College of Art in the early 1960's, alongside his friend John Bellany, Moffat emerged as one of the Scottish Realists, so-called because of their social awareness and rejection of the decorative principles that defined much Scottish art during the first half of the twentieth century.

The Cateran Ecomuseum, working with the Blairgowrie Town Hall Committee, the Blairgowrie & Rattray 'Our Heritage' Group and the Hamish Matters Festival, has arranged for Scotland's Voices to be shown for the very first time in Perthshire from the 2nd of November until the 11th of November in the Foyer of the Town Hall during day time opening hours.

Alexander Moffat said: ."One of the most significant cultural happenings in Scotland in the 1950's was the Folk Revival, led by Hamish Henderson. Making a painting about Hamish and his 'discoveries'…Jeannie Robertson, Belle Stewart, Dolina MacLennan, Willie Scott, etc was something I had to do….'Scotland's Voices' was a labour of love from start to finish".

We hope lots of folk will come and see it!

PLEASE NOTE – THE PAINTING WILL BE HANGING IN THE FOYER OF THE TOWN HALL AND WILL BE AVAILABLE FOR VIEWING WHEN OTHER EVENTS ARE ON.

PLEASE CHECK BLAIRGOWRIE TOWN HALL CALENDAR http://www.blairgowrietownhall.co.uk/calendar.html

FOR OPENING TIMES AS THEY ARE DIFFERENT ON EACH DAY.
Time

3 (Sunday) 10:00 am - 11 (Monday) 3:00 pm
Location

Blaigowrie Town Hall

14 Brown St, Blairgowrie and Rattray, Blairgowrie PH10 6EX